Search a cell phone, laptop, or wireless router online using 2 MAC addresses and find its location on Google Maps. Please note, you need two MAC addresses in the same area to make this WiFi tracker work, otherwise it might not return any location.
Try other MAC address lookup tools here,
MAC address vendor lookup
, and
MAC address generator
.
Please note, all feilds are required.
How it works
What is a MAC address?
MAC address stands for media access control address, it's a unique identifier assigned to network interfaces for communications at the data link layer of a network segment. By the way, you can generate a MAC address yourself.
How to find my MAC address?
There are many apps out there that can help you get MAC addresses around you. For instance inSSIDer for Windows 7 / 10, WiFi analyzer for Android, network analyzer for iOS.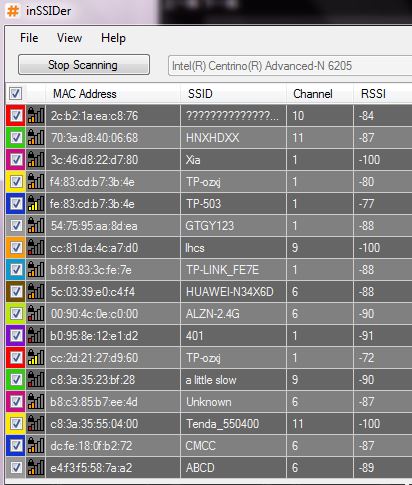 How to use it
Find two MAC addresses and enter them in the above form, you will be able to see the location if they are included.
This WiFi tracker uses 2 wireless router MAC addresses (you can choose any 2 of them) to determine the location of cell phone and hotspots and laptops. Each WiFi hotspot covers a certain area, the more Access points in your area, the more accurate result it will return. So the density of wireless access points will determine the accuracy. But this Wi-Fi tracker is intended for 2 MAC address query only.
I am not responsible for any tracking errors. You can get in touch with me via the about page, feedback is appreciated.